Hollywood Iftar Encourages Creators to Reject "Stereotypical Stories" About Islam
May 17, 2019
The third annual event was hosted by the Muslims on Screen & Television Resource Center, Unity Productions Foundation and the Writers Guild Foundation.
Emily V. Gordon and Kumail Nanjiani Talk 'Little America' at WGFestival
Game of Thrones: 18 Secrets, Easter Eggs, and Revelations Hiding in 7 Seasons of Scripts
December 5, 2018
A cache of scripts from the show help clear up long-held questions—and blow several theories wide open.
Reading, Writing…and Rhimes
September 20, 2018
Whether they yearn to be the next Shonda Rhimes or just revel in Hollywood history, writers find their way to this unique Los Angeles library.
WGF, MPAC Talk Creating Authentic Representation for Muslims and TV
October 19, 2018
On Thursday evening, an industry panel featuring writers, actors and practicing entertainment lawyers discussed ways in which Muslims and the Islamic faith have been represented through film and television, as well as offered ideas on how to ensure better and more authentic representation moving forward in the industry.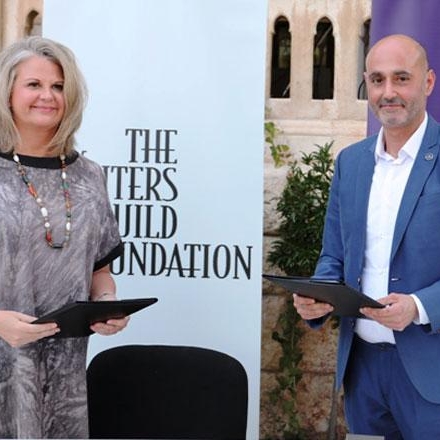 RFC signs MoU with LA foundation to develop TV, cinema writing professions
July 27, 2018
The Royal Film Commission – Jordan (RFC) on Wednesday signed a Memorandum of Understanding (MoU) with the Los Angeles-based Writers Guild Foundation (WGF), aiming to develop the writing profession in the field of television and cinema.
Muslims Seek Greater Understanding From Hollywood Through Iftar Event
May 18, 2018
Thursday night the Writers Guild Foundation and Muslims on Screen & TV resource center invited Muslims and non-Muslims alike to share the sacred meal at the West Hollywood London hotel.
Top Female Showrunners Talk Industry Battles, Opening Doors for Others
March 26, 2018
Producing for Netflix vs. the networks, the increasing clout of female showrunners, and how to fight for distinctive ideas to be heard were among the topics at a panel of women showrunners at the 2018 Writers Guild Festival Sunday.
Hooray for Hollywood's Hand-me-downs: LAUSD taps industry resources
May 18, 2017
The Creative Industry Coalition aims to harness the resources of studios, unions and production companies in the district's backyard, and bring them to students through equipment donations, classroom visits, field trips and more.
Coffee, Tea and a Script: 18 L.A. Hotspots for Hollywood Writers
January 20, 2017
Phil Lord's Italian cafe, Damon Lindelof's late-night hangout, an 'Empire' scribe's "magical Starbucks": "You feel a little less likely to screw around on Facebook when Chris Weitz is a few chairs away."
9 Things We Learned From The 'Insecure' Writing Staff's Panel At The Writers Guild Foundation
8 Places to Write in L.A. (That Aren't Coffee Shops)
October 10, 2016
Here we've compiled a list of spaces writers seem to love.